"We can listen and we can learn from the experiences of others. We must have controls over immigration... And we should certainly not expect the least advantaged and least educated communities in Dublin and elsewhere to be the sole unassisted hosts of ghettos and newcomers. Down that road lies certain disaster"
Kevin Myers – 'An Irishman's Diary', The Irish Times, 30 January 1998 ( At the start of the mass immigration new reality)
According to the 2011 Census the Irish are in a minority in parts of North Inner City Dublin. In electoral small areas like "North Inner City", people of Irish ethnicity make up only 29% of the population.
Population replacement/displacement and submergence occurs all the time. Kosovo today is an example (only 7% Serb) compared to 64% Serb in 1871, another example for completely different reasons, would be Dubai (today just 17% Emirati). The mechanics of marginalisation of a majority should be basic knowledge to Irish people, the history of Irish plantation lays out previous semi-successful attempts to destroy our people, language and culture – something supposedly illegal today through the UN Genocide Convention.
There has never been an electoral mandate for the current mass immigration programme into Western countries.
Here is a snapshot of the immigration situation today if we use the census numbers: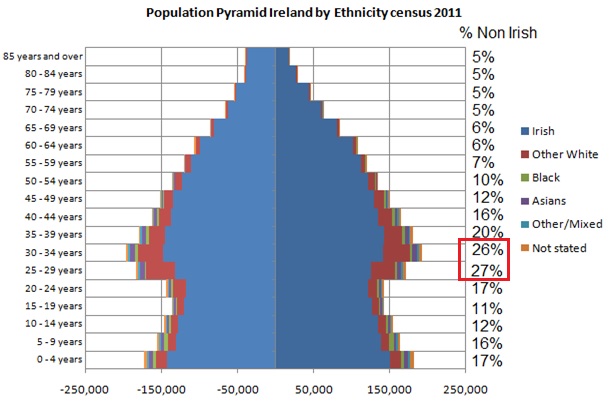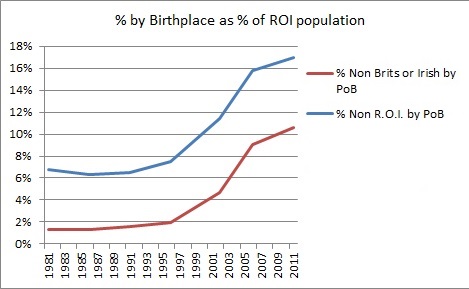 The population projections are here showing that during the second half of the century those born here will be from primarily immigrant backgrounds if nothing changes.
"New Irish" population projections 2011-2061 eurostat
I wish to show that these people come from a great diversity of ideologies but they are united in that they put personal advantage over the interests of their own people – just like the archetypal and infamous Irish traitor did - Dermot MacMurrough - Feudal Lord of Leinster known also as Diarmait na nGall ("Diarmait of the Foreigners").
Lets begin.
International/Transnational :
The European Union (EU)
The European Refugee Fund (ERF)
The European Fund for the Integration of Third-Country Nationals (EIF)
The Employment for People from Immigrant Communities project (EPIC) which is supported by the European Social Fund (ESF)
The United Nations High Commissioner for Refugees (UNHCR)
Amnesty International
Media:
Associated Press: This organisation provides much of the cut-and-paste articles you see in the mainstream press, they have phased out the use of the term "illegal immigrant" from its handbook on journalism, replacing it with the term "undocumented persons". Words contain the means to meaning and this is another step at normalising what wasn't accepted a generation ago.
Both The Irish Times and the Irish Examiner have for years been uncritical of mass immigration. It would be an article in itself to analyse this.
All Media everywhere (probably with the exception of fringe, online media and non-western television outlets like RT (Russia Today).
NGOs/Quangos – These often have Charity status to get tax-advantages
Propectus.ie stated that 189 migrant organisations existed in 2008, 49 were based on a particular ethnic/religious group, 15 had a specific focus on women, 37 were focused on the needs of refugees/asylum seekers.
NCCRI: The National Consultative Committee on Racism and Interculturalism est. 1998, closed 2008 due to what they describe as "government cutbacks"; staff: (at least 5) Leaders: Philip Watt, Fiona McGaughey National Consultative Committee on Racism and Interculturalism (NCCRI) - Ireland
Funding: Core funding from the Irish government: Dept. of Justice, Equality & Law Reform; Dept. of Community, Rural & Gaeltacht Affairs; and Dept. of Social & Family Affairs.
NCP (New Communities Partnership): describes itself as an independent national network of 165 immigrant-led groups (11 staff, 9 members on board of directors).
Funding: Irish Govt & Local government, European Commission, JP MacManus Charitable Foundation.
Cairde:
'Cairde is a community development organisation working to tackle health inequalities among ethnic minority communities by improving ethnic minority access to health services, and ethnic minority participation in health planning and delivery.' Cairde works with disadvantaged ethnic minority communities from the continent of Africa, Eastern Europe, and the Baltic states.
Cairde – Challenging ethnic minority health inequalities
Funding: Health Service Executive (HSE), National Action Plan Against Racism, Combat Poverty Agency.
NASC - The Irish Immigrant Support Centre:
CEO Fiona Finn, (15 staff)(board of 8) other name is http://www.nascireland.org
"Nasc works for an integrated society based on the principles of human rights, social justice and equality."
Funding: One Foundation, Atlantic Philanthropies, Irish govt., local govt. and the EU, the Sisters of Mercy
Doras Luimni – "protecting and promoting the rights of all migrants".
An independent, non-profit, non-governmental organisation working to support and promote the rights of all migrants living in Limerick and the wider Mid-West region. A registered Charity which helps migrants secure a "leave to remain" position in this country. Ann Sully is Founder, Karen McHugh is head, Michael D. Higgins is Patron. They have no fewer than 20 Staff + a board of 10 people.
An article in the Limerick leader dated 15/01/2011 stated that Doras Luimni has 14 staff and over 30 volunteers, and that they are funded by Atlantic Philanthropies, The One Foundation, Pobal, the Sisters of Mercy, the European Refugee Fund, and other private donors.
The Integration Centre.
"The Integration Centre is a non-governmental organisation which is committed to the integration and inclusion of people from immigrant backgrounds in Ireland. Works to Creation of a credible voice to influence National Integration Policy and Practice." More than 250 affiliated organisations in its "Network". 16 staff, CEO is Sinn Féin Activist Killian Forde who used to post a little on Politics.ie. They are Funded by Atlantic Philanthropies & the One Foundation.
Killian Forde attacks debate and discussion of immigration on politics.ie
Irish Refugee Council
Campaigning to stop Direct Provision to migrants in Ireland claiming asylum. Sue Conlon is CEO. Patron is Catherine McGuinness(former Supreme Court justice). This is also a registered Charity. Claims that 'The Irish Refugee Council (IRC) is Ireland's only national non-governmental organisation which specialises in working with and for refugees in Ireland.'
EC Funding and philanthropic grants from unknown sources, €877,000 for 2012 (17 staff in 2012 + at least 15 interns) (A ten member board also)
The Irish Network Against Racism (INAR), formerly ENAR Ireland.
A national network of anti-racist NGOs, which aim to work collectively to highlight and address the issue of racism in Ireland.
Someone called Catherine Lynch may be in charge, apparently campaigning for the introduction of hate crime legislation
Part of a larger network (ENAR) which is endorsed by The network of Open Society Foundations (OSF), formerly the Open Society Institute(OSI) which was founded by George Soros.
This network openly seeks to influence the EU to promote their [i.e. ENAR's] anti-racist agenda (http://www.enar-eu.org/Page_Generale...5278&langue=EN) .
Immigrant Council of Ireland (Denise Charlton CEO , Stanislaus Kennedy) a registered charity est 2001 (9 staff + 9 member board)
"As an immigrant human rights organisation, the ICI will:
+ influence and effect change on immigration law and policy."
They state:
+ "Immigration to Ireland is a permanent reality and one which will enhance our country and nation"
+ "Cultural and ethnic diversity should be respected and supported"
+ "Immigrants and immigrant communities in Ireland should be empowered to improve their quality of life"
+ "Ireland should comply with international laws, obligations, and undertakings in relation to immigration".
Denise Charlton regularly gets writing space in the Irish examiner and places like thejournal.ie
AkiDwA
Mission: "AkiDwA promotes the equality of migrant women in Irish society, free of gender and racial stereotyping".
Sinn Fein
Under the guise of Irish nationalism, which they have subverted into an Anti British Separatism that fits alongside their Marxist ideology of class and minority struggle. In their 1998 manifesto they declare to work towards the abolition of all borders. As well as this they openly support the EU, an EU that we use their currency, have next to no sovereignty under, have manipulated our sovereignty, threaten us with an EU army, our tax rate, landed us with one of the largest debts, keep our borders open. Sinn Fein certainly are not Irish nationalists, but Marxist anti British separatists a different thing. A nationalist simply wants their country and people to be sovereign.
SPIRASI:-
"SPIRASI is a humanitarian, intercultural, non-governmental organisation that works with asylum seekers, refugees and other disadvantaged migrant groups, with special concern for survivors of torture. In partnership with others, SPIRASI enables access to specialist services to promote the well-being of the human person, and encourages self-reliance and integration into Ireland."
Show racism the red card
Show Racism The Red Card | Home Page
They target 11-15 year olds for antiracist indoctrination, they send a man dressed up in a dog-suit to schools to tell kids that Racism is bad.
Primarily a UK based organisation with links to violence loving* far-left Antifa groups like Unite against Fascism.
* Arrests after London EDL demo - ITV News
Show Racism the Red Card is an anti-racist charity that has been growing from 1995 when Shaka Hislop donated £50stg to a local anti-racism campaign in Newcastle upon Tyne. Show Racism the Red Card is now present in United Kingdom, Norway, Sweden, Finland, Denmark and Ireland.
Some quotes from their site "Racism is the belief that because people are a different colour, or from a different country that they are inferior. It can take many forms. For example, it is racist to deny a black or Asian person a job simply on the basis of the colour of their skin."
"Fascists will try to make use of the fears of white people about not having a job or somewhere to live, by spreading scare stories about "floods" of black refugees and immigrants into Britain, rather than directing people's attention towards the government and people in power, and asking them for answers to the problems people worry about."
"Slavery was not an invention of the middle ages - it had existed for more than a thousand years - but it started to become a more organised trade towards the end of the fourteenth century, when the
Europeans began to take people from Africa against their will."
This view of History, ie slavery is simply a European phenomenon, the Arab slave trade is ignored as is the vast history of slavery worldwide and no mention is made of Britains leading role in abolishing the slavetrade worldwide.
Funding:
Various UK funding here:
Mostly by the government, lottery and of course sporting organisations. http://www.charity-commission.gov.uk...idiaryNumber=0
Irish Funding: €250,000 from the FAI in 2008, also Irish Sports Council, taxpayer funding through Pobal.
Africa Centre –'one race, the human race'
"To reach out to the developing African immigrant community in Ireland and to promote their participation in society
To engage in community development and poverty alleviation projects that improve African community living standards.
To advance public education and knowledge on intercultural and anti-racism issues."
3 staff, board of 8, €303,000 income in 2011 Funding: EU, Irish Aid, Concern, Dublin City Council, various others.
MRCI (Migrant Rights Centre Ireland) – Director: Siobhan O'Donoghue + 5 staff (board of 5 members also).
Programmes :"Justice for the undocumented" i.e. securing an amnesty on at least 30,000 illegal immigrants living in Ireland. They use of course couched language like "path to citizenship".
Securing amnesty In the U.S.A. for Irish illegal Aliens.
Believes: "Nativism" is bad - the MRCI regards housing for Irish citizens first as "Nativist". Apparently Social housing is for everyone regardless of citizenship.
Funding: Atlantic Philanthropies, the ONE foundation, and the Missionary Society of St. Columban.
IOM ( International Organization for Migration):
http://www.iomdublin.org In Ireland since 2001, some sort of transnational body. "Migration for the benefit of all" is one of their tag lines.
Appears to provide repatriation services for foreign nationals to return to their home countries.
Provides some training for counter-trafficking.
Residents against Racism
Rosanna Flynn
"Residents Against Racism has been campaigning since 1998 against state racism and all manifestations of racism. We are not connected to any political party and do not receive any state funding."
"Those seeking asylum in Ireland include people fleeing from war and persecution, along with people trying to escape poverty like thousands of Irish people have done in the past. Instead of wasting money on trying to deport them, Ireland should welcome them here to live in safety."
According to Wikipedia: "Its supporters include Patricia McKenna, Joe Costello, and Aengus Ó Snodaigh.
Ethnic/Racism Studies Courses / Education:
Third Levels:
Currently over 31,000 non-EEA foreign students reside in Ireland – this is a major source of new revenue for the Third Levels – 28% of these are in language courses.
Immigration Industry Courses:
Eg: MPhil in Race, Ethnicity, Conflict at Trinity
Taught by Israeli born Leftist Ronit Lentin.
"I propose an interrogation of how the Irish nation can become other than white (Christian and settled), by privileging the voices of the racialised and subverting state immigration but also integration policies. Stage one of such interrogation would be to do all we can to defeat the citizenship referendum on June 11." – Ronit Lentin
MPhil in Race, Ethnicity, Conflict : Trinity College Dublin, The University of Dublin, Ireland
Intercultural studies at DCU.
M.A. in Intercultural Studies (PAC Codes: DC611 Full-Time, DC612 Part-Time) - DCU Prospectus
Political Parties:
All political parties today are complicit either by remaining silent or by attempting to block people who are trying to make a genuine effort to make sane immigration policies (e.g. McDowell's Citizenship referendum which was opposed by Labour and Sinn Féin). Fianna Fáil in particular though hold special responsibility, the extra hundreds of thousands allowed into the country were part of a plan to enrich the clients of Fianna Fáil while heaping additional pressure to the housing and rental markets for short term gain.
Individuals:
Peter Sutherland is an ex Goldman Sachs ,Trilateral Commission, and Bilderberg Group member and a former Irish Attorney General now Migration Chief at the UN. He has stated that the EU should work to undermine national homogeneity; he seems to think solidarity between people within individual nations is an obstacle towards the goal of a transnational order of atomised consumers. It should be noted that the people's will in general is a problem for Sutherland, he has been recently whinging about the Crotty, Coughlan and McKenna Judgements which have given greater democracy to the Irish People. These judgements have, of course, helped to slow down the process of European integration.
Of a little interest – Sutherland's father was called William George "Billy" Sutherland and was from lowland Scot ancestry, this may explain some of his anti-national outlook . His family may not have integrated sufficiently into Irish society to feel ethnic loyalty.
Here he is speaking on the subject of migration, most here would not have heard his voice before. Personally I find a deep similarity to John Bruton (of the Bruton Planter Family):Peter (money money money) Sutherland - House of Lords "EU home affairs sub-committee" Questions - YouTube!
Cecilia Malmström, the EU's "home affairs commissioner", said she wanted to "eradicate" the term "illegal immigrant" from Brussels documents to get the EU to simply refer to these people as irregulars or simply people. "I've worked to eradicate the term 'illegal immigrant' from all commission docs. No human being is 'illegal', ever."
In an article co-authored between Sutherland & Cecilia Malmström they stated:
"Europe faces an immigration predicament. Mainstream politicians, held hostage by xenophobic parties, adopt anti-immigrant rhetoric to win over a fearful public, while the foreign-born are increasingly marginalized in schools, cities and at the workplace. Yet, despite high unemployment across much of the Continent, too many employers lack the workers they need. Engineers, doctors and nurses are in short supply; so, too, are farmhands and health aides. And Europe can never have enough entrepreneurs, whose ideas drive economies and create jobs."
Sutherland and Malmström also argue in the above article that "Last year, during the Arab revolutions, the EU missed a historic opportunity to begin weaving together the two sides of the Mediterranean." Sutherland is also quoted as arguing that opposition to greater globalisation is "morally indefensible".

Aodhán Ó Ríordáin of Labour
Column: Why I reported Darren Scully for inciting hatred "those who express these views in society need to be held accountable for them." –A.Ó.R. - ie get arrested by the Guards.
Alan Shatter Defence/Justice Minister (and therefore immigration) of the ROI of Fine Gael – a large property owner from fully non-irish immigrant background– who defended Nigerian scammer Pamala Isabeki and has created tens of thousands of new Irish citizens by waving his judicial wand.
"Thus far, we have avoided the extreme racial tensions that have emerged in many parts of Europe. However, we are aware that we must remain vigilant in this regard and the Government is committed to combating and challenging any and all manifestations of racism." – May 2013 - Although what Shatter means by "racism" is largely up to the imagination.
Shatter has opened up new avenues to citizenship and immigration. You can now essentially buy entrance into Ireland for you and your family with €75,000. The Journal.ie reported on the scale of immigration just after Fine Gael took power. There was a six per cent rise in the number of foreigners applying for visas in 2012 compared to 2011. Out of the roughly 88,000 visa applications received, 91 per cent were approved, with the biggest number going to natives of India (16 per cent), followed by Russia, China, Nigeria, and Turkey. Over 25,000 applications for citizenship were decided in 2012 compared to 16,000 in 2011 and fewer than 8,000 in 2010. In 2012 115,000 people who are not from the European Economic Area (EEA) are currently registered and allowed to remain in the State
Read more: Immigrants flooding into Ireland despite bad economic times there | Irish News | IrishCentral
James Reilly Minister for Health (Fine Gael)
Reilly has been aggressively recruiting doctors from India and Pakistan. 230 arrived in 2011, for example. Minister says foreign doc hiring a success - irishhealth.com Patterns in England suggest a chain-migration pattern with South-Asian immigrants. It is unclear whether he plans to make filling so-called "skills shortages" with Third World doctors a regular event going forward.
Ivana Bacik – A Labour Party Equality ideologue who wasn't born in Ireland and who comes from a mixed Irish/Eastern-European immigrant background:
Example of her behaviour: Senator Bacik put forward an Amendment to the Employment Equality Act before the Seanad on March 13th 2013 to overturn current legislation which allows schools and hospitals discriminate on religious grounds. She has been more preoccupied with Gay Marriage at the moment however.
Councillor Daithí Doolan of Sinn Féin – "criticised Mr Kenny's support for the Government on restricting workers from Bulgaria and Romania next January, arguing that many would be forced into the black market, leaving them prone to exploitation. "Given that one of the cornerstones of the EU was the free movement of labour, this move reinforces the view that EU is nothing but an elitist economic club," Councillor Doolan argued. "
The National Forum on Europe - Enda Kenny calls for Unified EU Approach to Immigration - Forum Address
Sinn Féin Dublin TD Aengus Ó Snodaigh - "called on justice minister Michael McDowell to act to help people seeking refuge."
On deportations - "Where is the humanity, where is the human rights of this minister and this government? Where is the charity that this country was known across the world for for so many years?" he told the protesters."
http://republican-news.org/current/n...ell_depor.html
Trevor Ó Clochartaigh – Sinn Fein
Daithí Doolan, Mary Lou McDonald, Mitchel McLaughlin and Aengus Ó Snodaigh of Sinn Féin headed their opposition to the Citizenship referendum.
"This Referendum is about the rights of children": Gerry Adams - Human Rights Commission slams government referendum | An Phoblacht
Mitchel McLaughlin, party chairperson, urged the electorate to reject the Government's "racist referendum" which he said was not only in "violation of the Good Friday Agreement" but also was a "betrayal of the 1916 Proclamation." Citizenship referendum a violation of Good Friday Agreement and a betrayal of the 1916 Proclamation | Sinn Féin
Dil Wickremasinghe, an extremist leftist Sri-Lanken whom Denis O'Brien has given a show to on Newstalk Radio called "Global Village".
Irish Council for Civil Liberties:
From the 2004 Citizenship Referendum a leaflet from the Irish Council for Civil Liberties urging a 'No' vote.
"Citizenship Referendum -there are so many reasons to vote No.. Whats Yours?"
citizenship referendum | Irish Election Literature
http://www.indymedia.ie/article/60880?author_name=eoin%20o'broin&comment_order=asc &condense_comments=true&userlanguage=ga&save_prefs =true
Others:
Liberals /Progresives including Neo-conservatives also known as Right Liberals
Slumlords and capitalist exploiters
Secular humanists
Marxists/Socialists
Church Leaders/uninformed christian socialists
EU/UN/IMF apologists
Certain people with foreign partners who are too thick to understand that immigration restrictionism and having a foreign partner aren't mutually incongruous
Transnational Charity/NGO types
Gaelgior type "Language Nationalists"
Certain Republicans
An older post on the costs of immigration:
Dan O'Brien: 2004 mass immigration policies were a mistake
***************************
You can take from this what you will. I take from it that despite the financial crisis we can assume there will be an acceleration in policies designed to push for continued mass immigration to Ireland. The immigration pushing side is numerous and extremely well resourced. The immigration-restrictions side is effectively non-existent beyond individual actors within the justice / Immigration system who are acting autonomously and silently to try their best at impeding the programme.
If you have any other suggestions for people or groups to be added to this list, let me know. This isn't to be a discussion of the pros or cons of immigration. That will be the subject of my next thread.
Original article here: http://www.politics.ie/forum/health-social-affairs/211684-forces-lined-up-make-irish-minority-their-homeland.html
If you can afford to become a Gold member please click 
here
Your support enables us to defend Ireland against Globalism and the tyranny of the European Union. We put on events, actively protest injustices perpetrated against the Irish people, disseminate information around the world using our reach on social media and take it to our hostile elite.
If you'd prefer to give us a small donation please to help us fight to free ireland from the EU you can do so by leaving us a donation using your bank card (VISA or MC) on the right side of this page in the donations section. Anything you can afford will help our efforts.
We sincerely appreciate your support.